Info Schraven Navigator deck installation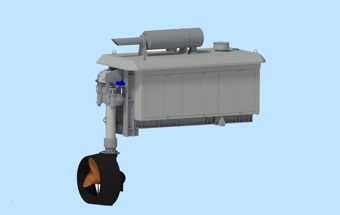 Schraven B.V.
Visiting address
Looveer 4a,
6851 AJ Huissen,
The Netherlands
Schraven supplies various versions of Schottel navigator sets. These navigators are offered in combination with a Schottel rudder propeller. From the design to the realisation we can do it in house. Why a Schraven navigator?
Parts from renowned brands
Various brands and types of diesel engines
execution according to class possible
own design department
Robust and sleek design
The complete propulsion unit
The navigator is a reliable and compact propulsion unit suitable for use on a very wide range of vessels. In principle, the navigator (deck unit) is a large-scale mobile outboard motor which, in combination with the thruster, makes the vessel 360 degrees manoeuvrable.
Lifting system
The unit is available with a fixed thruster arrangement as well as a sliding one. This makes it possible to adjust the height of the thruster by approximately 750 mm. This prevents air suction when the ship is empty. In many cases, ballasting is no longer necessary.
Easy installation
Installation is quick and easy, because the navigator is equipped with mounting strips that only have to be welded to the deck of the vessel by the shipyard. So it is quite easy to motorise different types of floating objects such as pontoons, split barges, etc. yourself.
Advantages 
Compact unit
Applicable on almost every type of vessel
Simple installation (deck installation)
Easy access for maintenance work
360 ° manoeuvrability
Available in various power ranges
Click here for the brochure